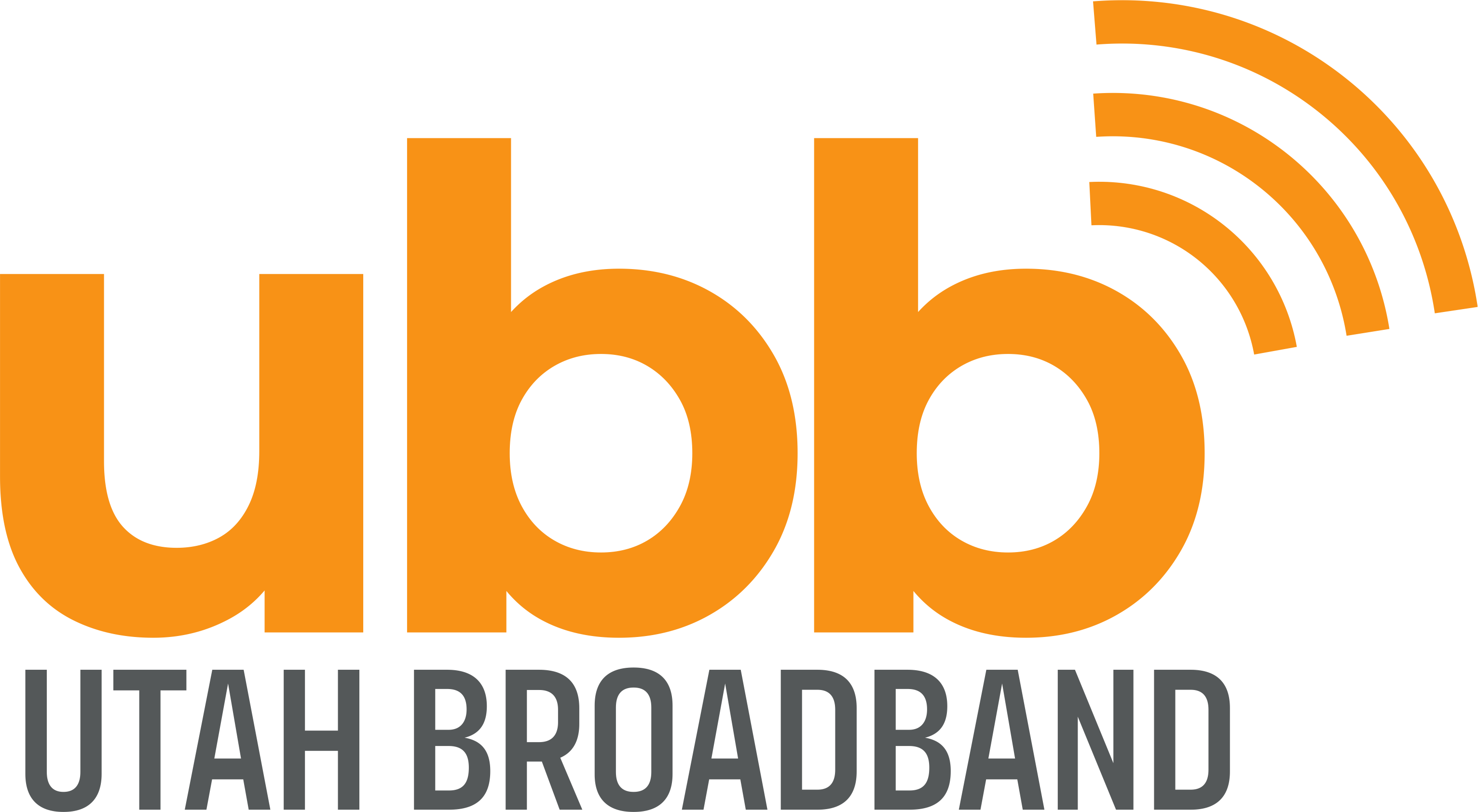 How Does Linked Wireless High-Speed Internet Work?
Utah Broadband provides both Fiber Internet & Linked Wireless services. I know how fiber internet works but what is linked Wireless internet? It means we place a small antenna at the customer's premise, this antenna is then pointed at one of our main towers. Once your antenna is installed, our tower provides consistent high-speed internet to your location whether a residential home or business establishment. We then run a Cat6 high-speed internet cable from the antenna into your home or business. This cable can then be plugged into your Wifi router to project Wifi throughout your home or business. For those customers that have a smart-home with ethernet running throughout their house, the Cat6 cable from the antenna can be connected directly into their smart-home control hub. Our Installation Technicians go above and beyond to ensure that your home gets set up the way you want it! They use sophisticated software to analyze your current coverage gaps and design a network solution plan to maximize your WiFi coverage to ensure excellent speeds throughout your entire home or business.
Benefits' of UBB's Wireless High-Speed Internet?
At Utah Broadband, we own the last mile. What exactly does that mean? The last mile is a term meaning the distance between the internet hub and our customers. And what does that mean to you? Some of these advantages include:
· Fast Installation Times
· Network Reliability
· Immediate Troubleshooting
· Ability to increase Internet speeds instantaneously
· No Hidden Taxes or Fees
· Customized Bandwidth Solutions
What is the 'Best WiFi Router' to use?
Be aware that older routers may not have the capability to receive and project the faster speeds offered now in 2022. If your WiFi router is older than 2018 it may need to be upgraded.
Do I need any special software?
NOPE! No special software is needed to use UBB's wireless high-speed internet services.
Local & Friendly Customer Support
How do I test what speed my internet is running at?
Utah Broadband provides a dedicated speed test server for customers to test their speeds. Click HERE to test your current internet speed. Internet speeds may vary for a variety of reasons, including your internal network traffic, global Internet conditions, bandwidth availability at the test site
being used, etc. The number one reason we see slow speeds is because customers WiFi routers are outdated. If you have a question regarding your speeds, please contact our Technical Support.
What is UBB's Internet service compatible with?
Our service is compatible with all Internet applications, including game consoles, company and personal VPNs, Internet phones (VOIP) and all other services. As with all service providers there may be additional configurations needed for your home router. If you experience any issues with these types of services, please contact our Technical Support.
Do I need antivirus or spyware protection?
All computers can benefit from an antivirus program. Viruses that infect computers can seriously degrade your Internet experience. There are countless free and paid antivirus/spyware removal software applications on the market. Utah Broadband recommends using a reputable antivirus program such as Microsoft Security Essentials, or AVG.
How do I protect my Internet connection?
We recommend that you secure your internal network by ensuring your router or firewall is password protected with a strong personal password. We also suggest that
your wireless router be configured with encryption. Our technical support team
can help you set this up or our Network Services Team can come into your home
and help you configure your network.
What do I do, if I forgot my Username to my Utah Broadband Account?
Your username is the email address you provided when you set up your Utah Broadband account.
What do I do, if I forgot my Password to my Utah Broadband Account?
1. Go to Utahbroadband.com
2. Then click on "Customer Login"
3. Enter your email address
4. Click on the link "Lost Your Password" below the login prompt
5. Enter your email address associated with your account
6. You will receive an email with a password update message
Is there something I can do if my Internet is not working properly?
If your internet speeds are not functioning properly or you are having connection issues. First thing you can do to self-troubleshoot your systems, is to power down and reboot both your UBB antenna and your Wifi router. Often times, rebooting can resolve many different problems. To power cycle, please disconnect the power adapter for approximately 10 seconds before plugging back in.
If you know what type of antenna you have, you can also double check that everything is plugged in properly. Below are the steps for troubleshooting your wiring between our antenna and your router/computer.
· Verify the cable from our equipment is plugged into the "PoE" port
· Verify your computer or router is plugged into the "LAN port"
· Verify the power cable is plugged in and there is a Blue/Green light
IT IS GENERALLY NOT ADVISABLE TO PRESS THE RESET BUTTON – There is usually a reset button on the back of most routers, but, hitting the reset button will clear out the settings on your router and may exacerbate the problem and delay fixing the issue.
Providing High-Speed Internet Services in Utah for Over 20 Year!!!