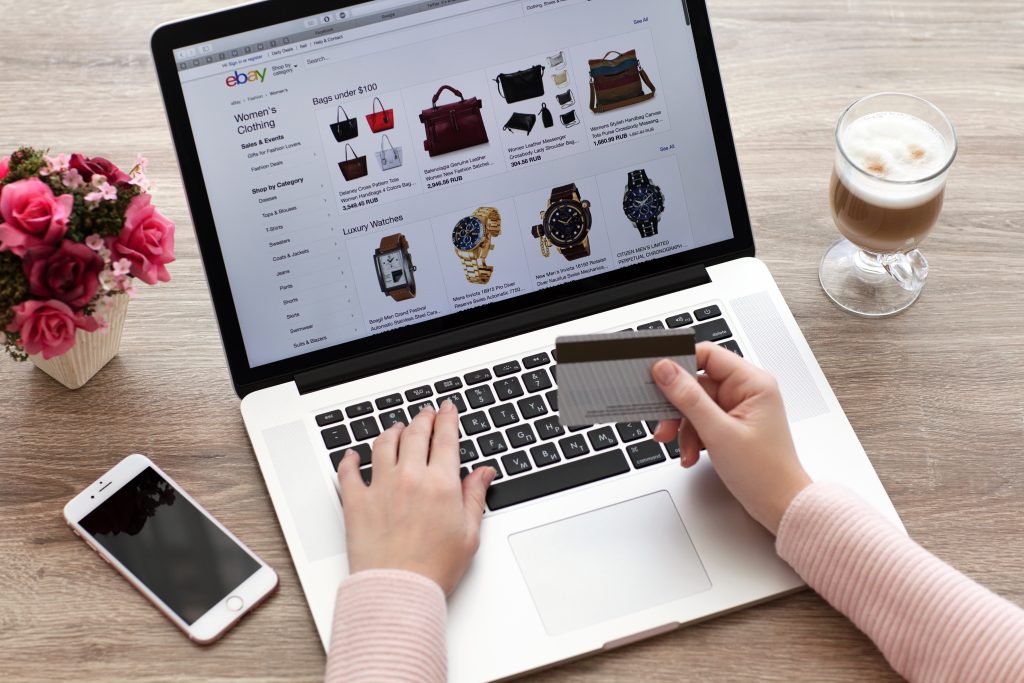 You've probably bought or sold something on eBay, but have you tried Poshmark yet? Both sites have their advantages.
"Poshmark is an interactive, social commerce marketplace where individuals can buy and sell new or used clothing, shoes, and accessories. An avid user would typically use the app in the same manner as using the popular social platform, Instagram, on the mobile phone," according to fangwallet.com,
On the other hand, although eBay has fashion items, this is a small part of the company. Large businesses often sell their stock on eBay, whereas Poshmark is individuals linking up an account with Instagram and selling from their closets.
If you're into fashion and are the queen/king of social media, Poshmark is for you. If not, stick to eBay. eBay will cost you less in posting fees. "eBay charges 10% sales fees + 3% Paypal fee, effectively charging a 13% fee upon a completed sale."
On the other hand, Poshmark has a flat 20% sales fee. But the seller doesn't pay for the shipping and it isn't an auction-style listing. You choose the price and your clothes or accessories can keep their place until they sell. They also give the seller free listings every month. Buyers can make offers, but you decide if your price is firm.
Once you've decided which system you're going to use, here are some tips that will help you do so more successfully.
Liking on Poshmark, Watching on eBay
As a buyer on either site, hit the like button on Poshmark and the watch button on eBay. If you want an item, but the price is a bit high, there's a good chance the seller will reach out to you if you're interacting with a product. You can also submit a counteroffer.
As a seller, consider sending a 10% discount offer to the interested parties. On Poshmark, you can have this happen automatically while the shopper is still on the app. Many sellers swear by this practice.
Good Pictures and Descriptions
When selling, make sure to take several pictures of your items in a good light. Be sure to list any flaws, no matter how small, and take pictures of them. You can show how small the blemishes are by photographing them next to a ruler.
Include measurements, details, and well-written descriptions. For clothes, don't show an item drooping on a hanger. Use a mannequin or have someone model the item–you don't need to show their face–so the buyer can see how the fabric drapes.
If a bag, have someone wear the purse in a side view so the buyers can see the size in relation to a person.
Buyers: If a seller doesn't include enough information, don't be shy. Ask!
Selling: Use Strong Keywords. Buying: Try a Combination of Searches 
When you're selling, make sure to use the common terms buyers will most often use. According to John Linden, a designer who sells on eBay and Poshmark, "When someone searches for a 'Supreme sweatshirt,' for example, you need to make sure that your listing shows up in the results, otherwise, no one will ever find it. Be sure to include terms like 'Supreme' and 'black sweatshirt', but also broad phrases like 'skater', 'athletic' and 'high-fashion'. That way, you'll capture not only the people who are seeking Supreme gear specifically, but also those who are looking for clothes that fall under a certain aesthetic."
As a seller, if you're trying to find a specific item, try a few combinations of search words. Be aware that less experienced sellers may not use the best descriptions.
Use Social Media to Sell
As a seller, Poshmark uses social media to help sell their items, but there is no reason you can't share your eBay listing, too, so your friends and family can see, and perhaps buy, what you're selling.
Don't use your social media accounts to only sell, though. Eventually, people won't "see" your posts anymore.
However, you can't share something with a secondary selling site. For example, yes, post your items to your personal Facebook page, but not to Facebook Marketplace–where Facebook allows people to buy and sell.
As a buyer, if you see something a friend or family member is selling near you, contact them and see if they can make you an offer that allows you to pick up what you want and avoid the shipping fees.
Acknowledge Repeat Customers
As a seller, offer discounts to repeat customers. As a buyer and a repeat customer, don't forget to ask for that special consideration.
But Make Sure You Have Good Internet!
You'll lose customers fast if you don't see what they're up to, can't upload decent photos in a reasonable time, or answer their questions when they ask them.
As a buyer, if your internet is sluggish, you'll lose auctions on eBay and miss out on your favorite products on Poshmark as other members sweep in and buy them up while you're waiting for the page to load.
So make sure you have the internet service you need. Here at Utah Broadband, we can help set you up with excellent service for buying and selling on both desktop and mobile.
Good luck!